A Treatment and Services Adaptation Center in the National Child Traumatic Stress Network
The University of Connecticut Center for Treatment of Developmental Trauma Disorders (CTDTD) brings together developers and disseminators of leading evidence-based child developmental trauma treatments to support providers nationally to achieve competence in the assessment and treatment of children and youth who have experienced developmental traumas such as maltreatment, family or community violence, interpersonal or relational victimization, and separation from or loss of primary caregivers.
Collaborating with national experts, we use dramatized therapy sessions and discussions to raise awareness of childhood trauma's developmental impact among clinical professionals, policymakers, families, affected youth and the public.
CTDTD has partnered with several grassroots organizations. Through these partnerships, we have been able to provide training, NCTSN products, and curricula to meet the needs of marginalized communities.
Roadmap to Resilience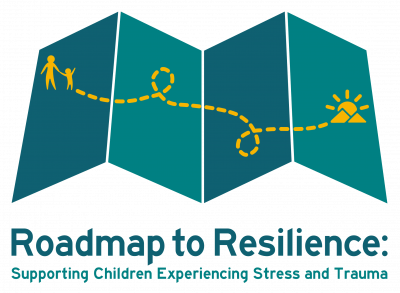 Roadmap to Resilience is a collaboration between Pandemic Parenting and the University of Connecticut School of Medicine Center for the Treatment of Developmental Trauma Disorders, with special thanks to the Inter-Organizational Child Trauma Task Force.
As the COVID-19 pandemic spread and recognition grew of the traumatic impact of racism on under-served and marginalized populations, we quickly realized that the stressors and traumas facing children and families all across the globe would not be short-term experiences.
Julian Ford led the formation of a task force of child trauma experts, including Dr. Amanda Zelechoski, with backgrounds in clinical psychology, pediatrics, psychiatry, nursing, social work, child welfare, education, research, and law. Together they considered, "How can we use our expertise to help children and families cope with the direct stress and trauma of the pandemic and the other traumas exacerbated by stay-at-home orders?"
After being a guest on The Pandemic Parenting Podcast with Dr. Zelechoski discussing Trauma-Informed Parenting, Dr. Ford suggested the task force take a similar approach. Create accessible, relevant, and timely digital content for behavioral health providers, social workers, teachers, parents, medical and nursing professionals, and all who care for kids that teaches and advocates for a trauma-informed approach to supporting children.
The task force members volunteered their time to be interviewed by Dr. Zelechoski and Dr. Ford resulting in 16 podcast episodes and dozens of short videos that walk listeners through what it means to provide trauma-informed support to children in their schools, homes, doctor's offices, extracurriculars, communities, and beyond.